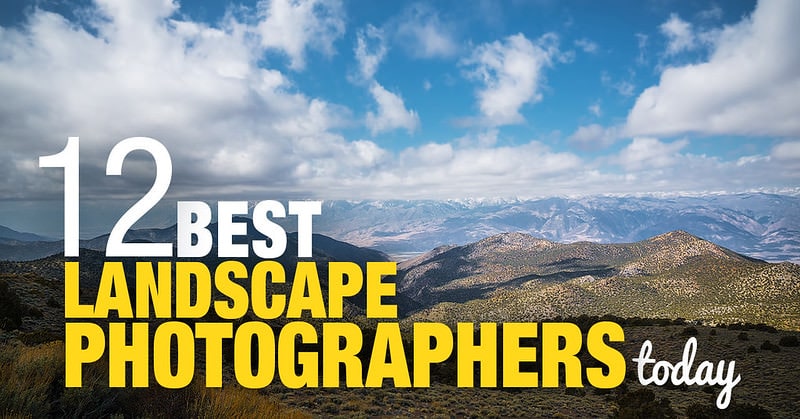 Today, we are delighted to bring you a unique experience and introduce you to the 12 best landscape photographers working today. Truthfully, this was a long and difficult task as we struggled to select only a handful of members from one of the most beautiful disciplines. For that reason, we have left out the most famous landscape photographers from the past and are, instead, focusing on those who are easily the future of the art.
Related: Creative Photography Ideas to Ignite Your Inspiration
Best Landscape Photographers Working Today
We hope you enjoy our selection. Keep your eye on these 12 incredibly talented landscape photographers who all possess a great passion for capturing the heart and soul of landscapes around the globe.
Ted Gore
Ted Gore's work is strong, bold and unique; every image he posts packs an amazing punch with his compositions bordering on both the ambitious and seductive. Based in California, Gore has gained worldwide respect and exposure with his entire portfolio serving as a true testament to nature. He captures landscapes in the most unconventional ways and actively works to give back by offering workshops and instructional videos to provide insight into his creative processes and techniques.
As an artist, he enjoys pushing the boundaries of natural imagery. As a truly modern photographer, he does not struggle to recognize the important of post-production and uses various technologies to ensure his images speak the languages he so desires.
You can enjoy some of his most recent work here. To keep up with his daily activities and see snippets from his portfolio, be sure to follow him on Instagram.
Ted Gore on the web:
Daniel Kordan
Daniel Kordan has a deep fascination with the possibilities that photography offers as an expressive medium. Growing up in the lake region of Russia just south of Moscow, Kordan's niche is precise—the art of landscape photography. Like so many other travel and landscape photographers, he offers photography workshops.
Kordan's work is what we call "a travel motive" or a constant invitation to anyone—photographer or not—to explore the world and to let themselves be moved by the magnificence that our planet has to offer. He is not a traditional landscape photographer that sets himself apart from human nature but, instead, he loves to show how the human presence resides inside the incredible, endlessness of nature itself.
Daniel Kordan on the web:
Max Rive
Max Rive is a Dutch photographer who, since the age of five, grew up visiting the high mountains of Switzerland. With an unstoppable urge for exploring nature, Rive's passions for adventure extend from motorsports and cycling to photography, which results in some of the most intriguing travel and landscape photography we have ever seen.
Refusing to give up on travel for the sake of higher education, something shifted in Rive's life when he missed a deadline at the university and decided to step away from college altogether. Weeks later, he nearly lost his life in a plane crash after he jumped aboard to visit the Himalayas of Nepal only to experience the devastating effects of the earthquake in 2015.
Related: Famous Contemporary Photographers and Their Iconic Photos
Since then, he's continued to travel around the world capturing every adventure he can find from Chile to New Zealand.
You can see some of his backstage processing videos here. Take a look at his breathtaking portfolio.
Max Rive on the web:
Michael Shainblum
Michael Shainblum got an early start to his career when, at 16 years old, he launched his career as a professional photographer and filmmaker. With a passion for creating ever since he was a child, Shainblum has a vast talent for fine art landscape photography, aerial photography, aerial filmmaking, travel and adventure photography, and commercial time-lapse photography. It's no surprise that big names like Nike, Samsung, Disney, and even Google have hired him to create exquisite pieces!
One of our favorite projects is Shainblum's Cityscape Dubai and, after seeing it, we are certain that you will understand why. Dubai is one of the fastest growing cities in the world with its incredible architecture shaping its horizon like no other place on Earth.
Michael has captured that true essence with the eye of an artist while keeping the consistent and visual aesthetic of one of the most thrilling destinations in the world.
From fine art photography to tutorials and presets, Shainblum is a prime example that professional photography can be achieved with an outstanding balance of both passion and talent.
Callum Snape
Callum Snape is a photographer who is driven by adventure at its finest. His work is a perfect reflection of his passion for landscapes and his adventurous lifestyle. What we love the most about his work is his incredible ability to blend the human spirit of adventure with the magnificence of nature, which serves as a great example of innovation.
Unlike any other photographer, it is breathtaking to see how Snape intricately weaves the theme of adventure into his work. Because of this, he serves as a great inspiration for any and every photographer who loves adventures and landscapes.
One of the most rewarding experiences for the human race is exploration—we are explorers by nature and this is the exact human essence that Snape captures with his camera. We invite you to dive into his adventure portfolio and uncover more of his landscape portfolio. Callum also has an interesting blog called The Adventure Passport, which is a great place to find inspiration for your travel photography.
Sean Bagshaw
An outdoor photographer and educator based in Ashland, Oregon, Sean Bagshaw is something else. In the 1980s and 1990s, he was more of a climber and mountaineer than a photographer, but he still had the curious urge to document his trips to later share in slide shows. As time passed, he discovered photography as a means of expressing his greatest passions for adventure as he stepped away from photography as simple documentation to study photography as an art.
Related: 12 World Famous Abstract Photographers
Now, his expeditions are focused in mountain photography rather than climbing. In fact, he spends 90 days of the year searching for the perfect light by sleeping in his truck or on the ground, whichever puts him closer to capturing his ideal image.
You can see some of Sean's interesting videos here and you can see an excerpt from his incredible portfolio here.
We hope you enjoyed learning more about 12 of the best modern landscape photographers. Travel and landscape photography have never been as close as they are today, which is exactly why we must cherish how far and how close the disciplines have come. We encourage you to never forget the most important thing—that nature is the legacy we must keep for generations to come. Never take it for granted!
Sean Bagshaw on the web:
Guy Tal
Don't let Guy Tal's website drive you away. His work is fascinating and, if you love landscape photography and traveling, you will certainly want to keep an eye on Tal's growing portfolio of work. Tal has a deep commitment to wilderness, which is why he focuses on pursuing images that will preserve nature before mankind takes its irresponsible acts against the environment too far.
Some may find his images surreal while others argue that Tal's work fits inside the world of abstract art. For us, his work is simply his perspective of the world in which we live. He is a photographer with an undeniable talent for dealing with color in a unique and consistent way.
Indulge yourself with a magical journey into Tal's impressive world.
Guy Tal on the web:
Michael Frye
Michael Frye is quite the character—he loves to share his knowledge with the hopes of helping other photographers achieve a solid, artistic method of expression. His blog is a great source of wisdom as he uncovers the nature of his craft and the genius behind his breathtaking landscape photographs.
His portfolio is undeniably a valuable tool to learn from, which is why we encourage you to look at Frye's work in terms of education. Think of his portfolio as your private photography professor. Just take a look at his post about the recent solar eclipse and you will understand exactly what we mean!
Frye is a local traveler as he sticks to his American roots but, even then, he portrays the land like no other especially as the sun sets and disappears behind the horizon. Take a look at his impressive Night Work here.
Michael Frye on the web:
Joshua Cripps
Joshua Cripps has a unique love for photography especially after it saved him from spending the rest of his working career enduring the tediousness of life in a cubicle. He first studied engineering and was hired to design satellites only to discover that sitting behind a desk for eight hours a day wasn't his passion. Giving up his nine to five job, he now lives in California's Sierra Nevada mountains and works as an official Nikon photographer.
Related: World Famous Historical Photos
Besides gaining tremendous exposure from the brand's many campaigns, Cripps' work has also been featured in Outdoor Photographer and Popular Photography.
Cripps is truly adapted to modern times and is part of the founders' crew of Sea to Summit Photography Workshops. He also founded his amazing YouTube channel in 2014 and runs a Nature Photography Academy where his students learn incredible photography and post-processing techniques. Last but not least, his blog and eBooks are definitely something to see!
Joshua Cripps on the web:
Erez Marom
A fantastic landscape and travel photographer, Erez Marom captures the Earth with an amazing passion and an exceptionally clever perspective. Like many photographers, he started in a different career field and only discovered the beauty of photography in 2008 when he dabbled in macro photography before venturing into landscapes, both of which require extreme patience.
He combined his love for travel and his passion for photography into a professional career that he cherishes today.
A life-changing situation both in his private and professional life encouraged Erez to make the jump into becoming a full-time professional photographer in 2012.
Related: Top 25 Famous Photographers and Their Photos
Over the last five years, his passion has not only taken him around the world but has also opened countless doors of opportunity as he writes for renowned websites like Dpreview and Landscape Photography Magazine. Happy to share his talents and techniques, he hosts a variety of workshops, many of which are already booked for the next two years.
Erez Marom on the web:
Colby Brown
A professional photographer, educator and writer, Colby Brown has been around for a couple of years now and exquisitely combines his passion for traveling and landscape photography. But, he also has another great side—his humanitarian photography. His work has been at the heart of various social and marketing campaigns that are focused on promoting awareness and igniting change.
He is the founder of the humanitarian photography organization known as The Giving Lens, a worthy supporting non-governmental organization (or NGO).
With his eyes drawn to symmetry and the vivid colors in nature, Brown's photographs are a valuable statement of his feelings when he finds the perfect spot in nature to capture what the rest of the world has yet to see.
Matt Donovan
Matt Donovan lives by the motto, "It is worth a shot." A landscape and travel photographer based in Sydney, Australia, Donovan has always been intrigued by the arts and, in 2009, was inspired to study graphic design, which led him to the magnificent world of light and photography.
Instantly falling in love with photography, he took things to a new level in 2013 when he focused all of his efforts on landscape photography. Now describing himself as a photographer, blogger, and adventurer, you can see more of his work here.
Matt Donovan on the web:
What to Read Next: